We're halfway through World Breastfeeding Week! I'm a breastfeeder. I like breastfeeding. I think breastfeeding is wonderful. I nurse my toddler in public, go to La Leche League meetings, and am friends with a whole slew of wonderful breastfeeding mommas.
But, after being inspired by
Lauren over at Hobo Mama
, I feel the urge to proclaim: It is every woman's right to feed her baby as she sees fit! I truly do think breast is best (but I also feel that the phrase should have been coined "breastfeeding is normal"). I am absolutely a proponent of better education and correcting misinformation. I like baby-friendly hospital movements, the growth of LLL to offer more mother-to-mother support, and any effort to normalize breastfeeding. I don't feel that formula should be marketed as heavily as it is, nor that hospitals should offer "breastfeeding kits" to new moms that do everything but literally say "you're going to formula feed eventually, here's what brand you should buy."
And with all that said, I don't care if you mentally couldn't even attempt breastfeeding, or if you latched your baby on once and never again, or if you made it three months and then went back to work, or if you pump and bottle feed, or if you promptly wean at six months/a year/whenever. I will continue to help mommas when asked or provide correct information when I see old wives tales being spread. I will keep on supporting other lactating mommas with words of encouragement. And in the same breathe, your baby is not my baby, and I am not you!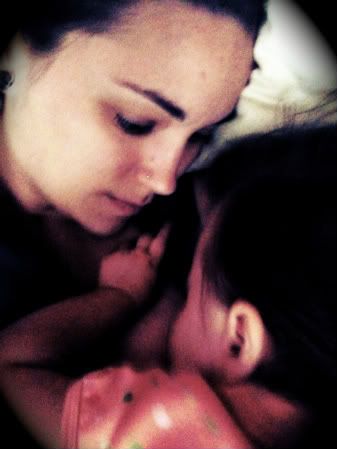 (Though I secretly wish I could tell every pregnant woman how lovely toddler nursing snuggles are! But I can't without seeming like a freak, so I keep my mouth shut!)